FILMCroatia
Providing logistics and production services to
international production companies filming in Croatia
Our services extend to Slovenia and Balkan countries of Bosnia, Montenegro and Macedonia
We have a proven track record of providing production services and fixers to A-list production companies for worldwide broadcast on major channels
We are a full-scale production company and have the ability to produce and assist on various productions including feature films, TV novelas, documentary films, reality and other TV series, commercials, music videos and other TV programming at any level of cost or complexity. We can tailor our services to meet the exact production needs.
Everything from the full support of well established production services company to individual bi-lingual fixers, location managers and line producers.
​
Arranging all logistical aspects for accommodation, transport and catering

Equipment rentals

Facilitating high level contacts and special services

Providing rare/original location related B-roll footage
​
Arrangement of entry visas, work permits and location releases

Location Scout

Industry experienced Fixers and PA's

Providing and coordinating local crew

Development and processing of local production budgets
How We Work
Our sole focus is providing production services. Our local knowledge, professionalism and experience of working exclusively with international productions guarantee a comfort, delivery and a standard of work that foreign producers expect.
We are experienced creative minds and able to assist with on the ground research and/or development of a story or every other aspect of production.
Please find detailed info about our services on the PRODUCTION SERVICES page.
HighSeasTV and

FILMCroatia
​
​
Ivan Cvirn, the founder and owner of Zagreb based Croatian production company Blenda d.o.o. worked with Alen on many productions over the years. In early 2015 Alen and Ivan joined forces and are now partners in facilitating all FILMCroatia clients. Today FILMCroatia has offices in Zagreb and Split in Croatia and in Brant, near Toronto in Canada.
Based in Toronto, Canada, HighSeasTV Inc. is a full production company founded in 1996 by Alen Milic. Born in Croatia and working as a TV Producer and D.P. on 5 continents, Alen experienced often unique and complex demands that TV crews have when filming in foreign countries. With strong ties to production professionals in Croatia, Alen established FILMCroatia.com in 2004, as a link between international Producers and filming on location in Croatia.
Alen Milić
Founder / Location Manager
Alen has been working as a Producer and D.P. in film and television for over 25 years. Born in Croatia and moved to Los Angeles in 1992, he has wide ranging experience in producing documentary, reality, sports and travel TV programs, reporting from war zones and other ENG work

around the globe.

Alen has created, produced and filmed numerous TV programs that have been licensed to broadcasters worldwide.

Alen's forte is organizing and executing demanding productions in harsh environments. He

is involved in numerous projects

as

a freelance D.P.,

an Advisor or as a Producer.
Ivan Cvirn
Line Producer / Coordinating Fixer
Ivan was born in Croatia and has been working as
a cinematographer, D.P. and a Producer for most of his life.

In 2002 Ivan established a highly successful production company Blenda d.o.o. that focused on hi-end commercial and documentary productions, many of his own projects and various for international and Croatian clients.

Beside Ivan's forte in extreme ENG filming, including underwater, aerial and slow motion, he is a great dedicated organizer and a project facilitating guru.
Andjela Prnjak
FILMCroatia Split Office Manager
Ana Matić
FILMCroatia Dubrovnik Office Manager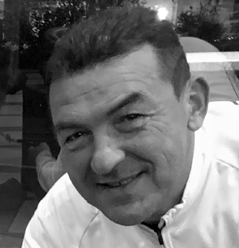 Dubravko Rupčić
Transportation Coordinator
Andi Nicolis
Main Driver / P.A.
Nikola Ledić
Marine & Rivers L.M.
Vida Ungar
Flora & Fauna Expert / L.M.
Marijan Vrdoljak
Location Aerials Manager / L.M.
Daniel Lacko
Wilderness Guide / L.M.
Danijela Bucić
Mountains Guide / P.A.
Samir Okić
Southern Bosnia and Herzegovina L.M.